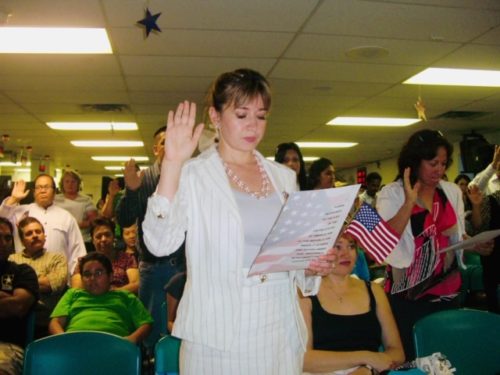 ??The United states of America is a mecca for immigrants. 1 in 10 Americans were born somewhere else and they are all have an amazing story to tell of their journey and the reason they're here and each have their own reasons for celebrating American independence on the Fourth of July.
We are all different, yet we are all the same. We are proud to live in the United States of America and be Americans. Personally, I feel proud,excited, and even a bit emotional about being an American every 4th of July.
Yes, I wasn't born in the USA, I was born in the Soviet Union, in a time when the Soviet Union and America were in a cold war.
That didn't stop me from dreaming about one day moving to America. Since I was a child, I had been fascinated with American culture, the movies, food, toys and of course bubble gum and Wrangler and Levi's jeans : ) It is funny but it's so true.
I always dreamed of moving to the USA, God heard me and gave me a chance to start from 0.
Mine and my 4-year-old Son Kirill's journey to America started in 2004 when I came to Dallas to get married to John.?
Kirill and I went through all immigration steps to get green cards then after a long wait, in 2008 I became a ??citizen and Kirill with me.
I cried and celebrated nonstop for 2 days. 11 years later, I feel the same.
You can ask me, what do I ❤️about America?
I ❤️Freedom, I ❤️the diversity in this country, I ❤️ having opportunity, I ❤️ having the ability to improve myself, to think big and achieve greater things by following my heart and soul, without compromise with myself.
And yes, I know this country went through a time in history with segregation and racism. And yes, sometimes you meet people who believe that immigrants do not belong here, and they will let you know it.
But because it is a free country, when this happens, I always remind these people that their parents, or grandparent or great grandparents or even their great great grandparents came from somewhere else, that they were once in my shoes. I say it because this is FREE country, and we all have the same rights and opportunities, Right??? It rarely happens but when it does, it doesn't stop me from loving my America.
Life goes on and yes, I continue to dream, all the while helping other people realize their dreams.?
So, when it came time to choose a name for our team, I had no question as to what we would call it.
Of course, we called it the "American Dream Group"
Dream on,
Do not be afraid to dream because dreams do come true
Happy independence to you and your family!!!!!!!!!!!!
Enjoy the fireworks ? and ? and have a wonderful day!!!
God Bless America!!!??
And yes, I think America is GREAT!!!!!
 —
Only the best